581K (Altec HL125 Material Handler)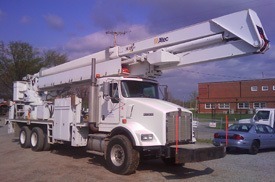 MATERIAL HANDLING AERIAL DEVICE:
*ALTEC MODEL HL-125
*120' TO BOTTOM OF BUCKET
*125' OF WORKING HEIGHT
*MAXIMUM SIDE REACH 45.5 FT.
*LOWER BOOM TELESCOPIC EXTENSION 40 FT.
*FIBERGLASS 2 MAN BUCKET WITH HYD. ROTATOR
*MAX. BKT. CAP. 800 LB. MAX. JIB CAP. 1500 LB.
*PLATFORM & JIB CAP. COMBINED 2100 LB.
*HYD. JIB AND WINCH WITH HYD. EXTEND & ARTIC.
*MAXIMUM DIELECTRIC RATING 765 KV
*CONTINUOUS ROTATION
*HYDRAULIC TOOL CIRCUIT @ BUCKET
*4 RADIAL STYLE OUTRIGGERS

CAB AND CHASSIS:
KENWORTH T-800
G.V.W.R. 60,000 LBS.
ENIGINE: CATERPILLER C-12 (410 MAX. H.P.)
TRANSMISSION: MANUAL 10 SPD. ROADRANGER
AIR BRAKES
POWER STEERING
R.H. 70 GALLON STEP FUEL TANK
425/ 65 R 22.5 RADIAL TIRES FRONT
11 R 22.5 RADIAL TIRES REAR
HUB PILOTED BUDD WHEELS
REAR DIFFERENTIAL LOCK
STAINLESS WEST COAST REAR VIEW MIRRORS
HEATER/ AIR CONDITIONER
AM—FM STEREO RADIO
AIR RIDE DRIVERS SEAT

BODY:
FIBERGLASS TILT FRONT END
TREADPLATE FLATBED
SIDE COMPARTMENTS
EXTENDED FRONT CHANNEL BUMPER
H.D. PINTLE STYLE HITCH
SAFETY CHAIN EYES
7 PRONG LARGE TRAILER PLUG

AXLE WEIGHTS EMPTY:

FRONT 18640 LBS.
REAR 31540 LBS.
TOTAL 50180 LBS.
Print Page
Rent from Us