975G (Morooka MST1500 w/ Telelect Commander 4045)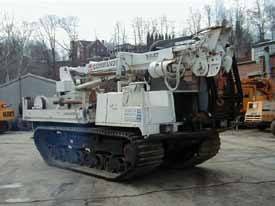 Unit:
TEREX Telelect Digger Derrick Commander 4045,
Mounted Center Over Rear,
Max Lift Capacity; 20,490 LBS.,
Max Sheave Hieght: 44′,
(2) Speed 12,000 Ft. Lb. Digger Motor,
Operators Console,
Single "T" Handle Control,
Transferable Pole Claws,
300 Lb. Capacity Pin On Bucket,
Hydraulic Fiberglass 3rd Stage,
Continuous Rotation,
(1) Set Of "A" Type Outriggers,
Hydraulic Tool Circuits

ATV Carrier:
Morooka MST-1500
Tracks: Rubber Encapsulated Tracks With Steel Reinforcement, Endless Link Design, Full Floating Under Carrier Assemblies.
Slope Climbing Ability: 57%
Ground Pressure: 3.98lbs.PSI.
Engine: 204 HP Mitsubishi Diesel
H.S.T. Drive System
High Pressure Hydraulic Control System
Double Braking System
Heat And A/C
Front Mounted Winch

Body:
Single Man Cab With R.O.P.S
Tread Plate Flat Bed With Side Rails
Slide Out Pole Racks On Right Side
H.D. Pintle Hitch

Dimensions:
Length: 20'Bumper To Bumper
Overall: 23'3″
Width: 8'6″
Height: 10'3″
Weight: 31,500lbs.
Print Page
Rent from Us