RQ106 (Timberland Two-Bundle Tensioner)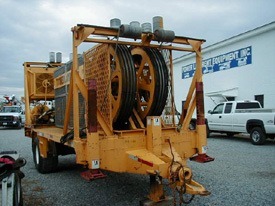 TIMBERLAND MODEL T-100-2H TENSIONER: TRAILER MOUNTED UNIT,
60" BULL WHEELS W/ 5 GROOVE 1.875 DIA. GROOVE,
6 CYLINDER FORD INDUSTRIAL ENGINE,
2 BUNDLE CAPABILITY OR SINGLE BUNDLE,
10,000 LBS. PER BUNDLE OR THE TWO CAN BE COUPLED TOGETHER WITH CHAIN PROVIDED AND ACHIEVE 15,000 LBS. FOR ONE BUNDLE,
HYDRAULIC TONGUE JACK
TWO HYDRAULIC FAN POWERED OIL COOLING RADIATORS,
TWO TENSION CONTROLS W/ GAUGES AND LINE SPEED INDICATORS,
SAFETY BRAKE CONTROL,
DIMENSIONS:
315 " LONG,
96" WIDE,
150" TALL,

WEIGHT:– 30,000 LBS.

PERFORMANCE:
SINGLE CONDUCTOR…..TWO SUB CONDUCTORS……..SPEED
5,000 LBS…SINGLE MOD………..5,000 LBS……………..@ 7.0 MPH
7,500 LBS…SINGLE MOD………..7,500 LBS…….……….@ 5.3 MPH
10,000 LBS…SINGLE MOD………10,000 LBS…………..…@ 3.5 MPH
15,000 LBS…WITH MODULES COUPLED TOGETHER ….@ 5.3 MPH

DRIVE SYSTEM:
THE ENGINE DRIVE POWERS THE BULLWHEELS TO SPEEDS OF APPROXIMATELY 1 (ONE) MPH.
PAYOUT: ALLOWS PULLING BACK THE CONDUCTOR TO CLEAR AN OBSTRUCTION IF A HANG-UP OCCURS DURING THE PULLING OPERATION . IT CAN ALSO BE UTILIZED TO PULL SMALL CONDUCTOR INTO THE FINAL 'SAG POSITION'.
Print Page
Rent from Us