RQ596 (Elliott L55R-MH, Non-CDL)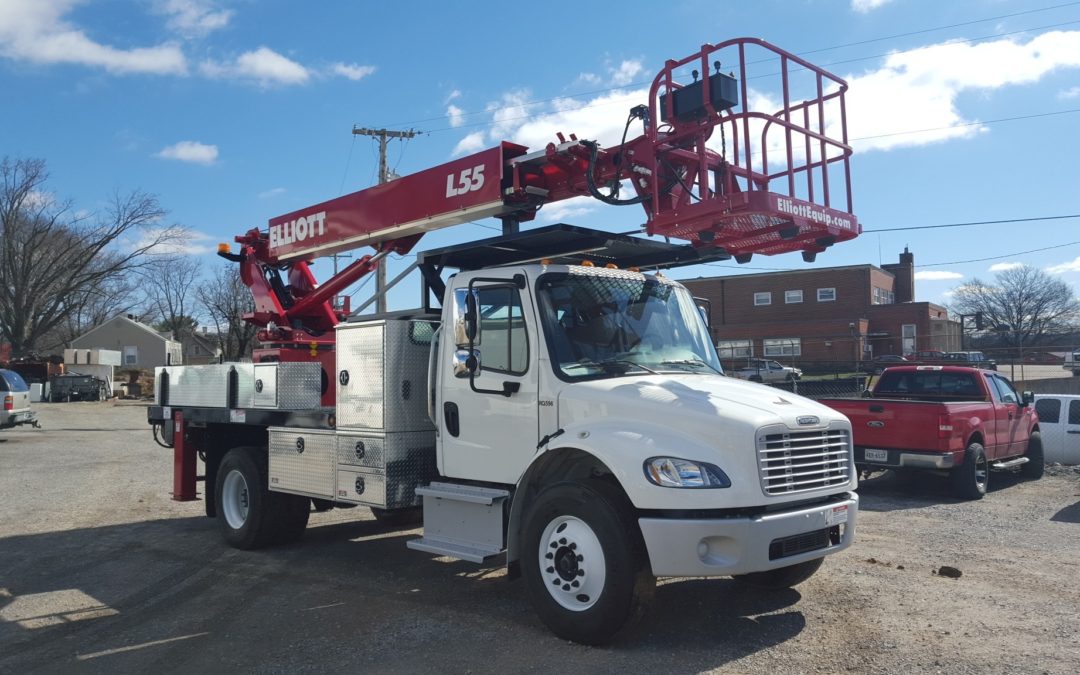 Elliott L55R-MH / SN: PC5991
Working Height: 57′
Maximum Side Reach: 51′
30″ x 54″ EZR Rotating Platform
Platform Capacity: 500 lbs.
Boom Winch Capacity: 5,900 lbs.
Continuous Roatation
110V Line To Platform
Anti-Two Block
Welding Leads To Platform
Lower Controls Mounted At Turret
H-Style Rear Hydraulic Outriggers
Sign Face Holders

'15 Freightliner M2-106
VIN: 3ALACXDT8FDGL9436
Cummins 6.7L Diesel Engine (260-HP)
Fuller FS6406A Manual Transmission
Air Brakes
GVWR: 25,999 lbs.
Front: 10,000 lbs.
Rear: 19,000 lbs.
Air Ride Drivers Seat
Air Conditioning
Power Steering
LH 50-Gallon Aluminum Fuel Tank
11R / 22.5 Radial Tires
Steel Budd Wheels

Steel Tread Plate 14′ Flat Bed
PLREI Aluminum Cross Box (30″ x 36″ x 99″)
PLREI Aluminum Underbody Box Package
LED Lighting Package (Marker & Tail Lights)
(2) Turret Mounted LED Strobe Lights
Outrigger Pads With Holders
Rubber Wheel Chocks With Holders
Rear ICC Step Bumper
15-Ton Pintle Hook & Safety Chain Eyes
7-Way Trailer Socket

Front Axle: 7,120 lbs.
Rear Axle: 17,520 lbs.
Total: 24,640 lbs.
Print Page
Rent from Us