Power Line and Forestry Equipment Service
---
PLREI offers a nationwide rental program that provides fast availability of the latest equipment. Depending on your financial needs and equipment usage, our rental program can save you valuable operating capital, reduce maintenance costs and provide you with the exact equipment you need. We have an entire service department to minimize equipment downtime.
Service Department
PLREI is dedicated to providing our customers with the service they deserve. In addition to servicing our rental fleet, we also provide full service and repair facilities for your personal equipment needs. Our Hydraulic, Mechanical, Fabrication and Body Shops can make all necessary repairs. We also have two road service trucks available as required.
ANSI Inspections and Dielectric Testing (up to 100kv)
PLREI offers Dielectric testing and ANSI Inspections.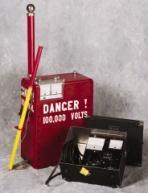 Tests can be performed in-house or on-site if the need arises. We have the ability to test both aerial device booms and bucket liners.
Contact our Service Department to schedule an appointment today!