939H (Commander 6000)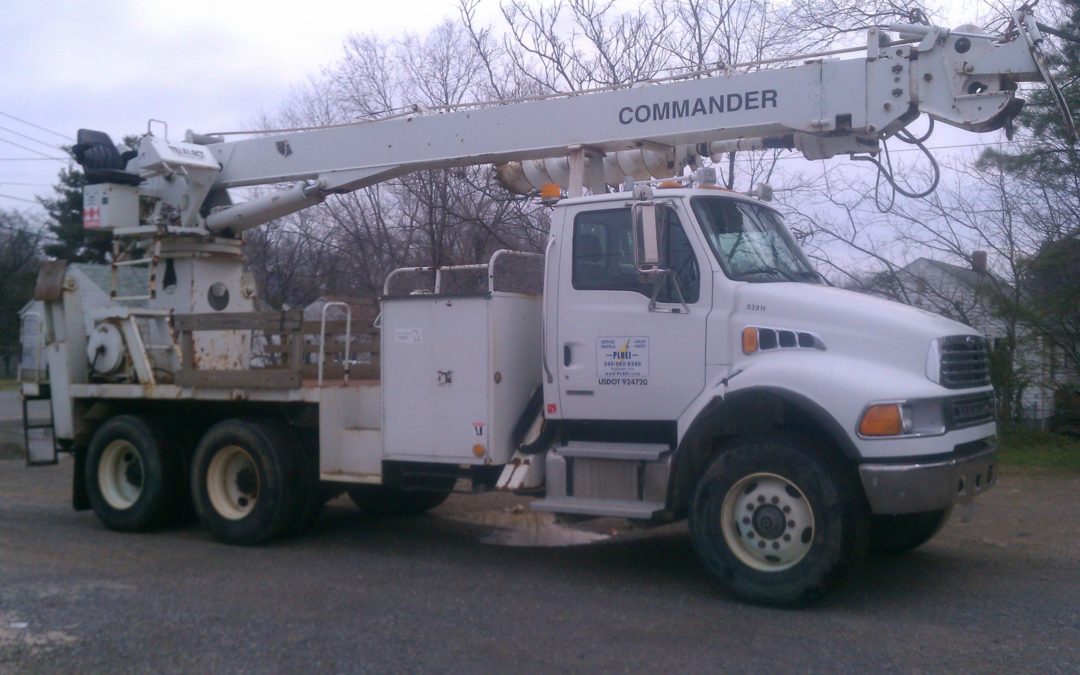 Terex Commander C6000
SN: 2030120783
Maximum Lift Capacity: 36,000 Lbs.
Mounted Center Over Rear Axle
Maximum Sheave Height: 60'
Right Hand Riders Seat Control Console
Left Hand Digger Stow
Single T-Handle Controller
Turret Winch With  1" Rope
Transferable Hydraulic Pole Claws
Continuous Rotation
Hydraulic Fiberglass Third Stage
Category "C" 46kv & Below
Two-Speed Digger Motor
Hydraulic Tool Circuit At Rear With Reel
A-Type Hydraulic Front Outriggers
Radial Rear Outriggers
Engine Start/Stop At Operators Console

2003 Sterling Acterra 6×4
Vin: 2FZHCHAK33AJ34473
Caterpillar 3126 Diesel Engine (250-HP)
Eaton Fuller 8LL Manual Transmission
GVWR : 58,000 lbs
FRONT: 18,000
REAR: 40,000
Air Brakes
Dual 50-Gallon Fuel Tanks
Rear Differential Lock
Front Tires: 385 / 65R 22.5
Rear Tires: 11R / 22.5
Air Conditioning
Power Steering
Cruise Control
Air Ride Drivers Seat

Steel Tread Plate Flatbed (Overall Length: 14′ 6″)
Steel 36" Cross Box
Left Hand Bed Access Steps
Tool Circuit Hose Reel
Remote Throttle & Engine Start/Stop At Ground Controls
Pintle Hitch
7-Way Light Plug
Safety Chain Eyes
Splash Aprons

Front: 11,060 lbs.
Rear: 24,720 lbs.
Total: 35,780 lbs.
Print Page
Rent from Us