RQ626 (Watson 1100TM-45DD)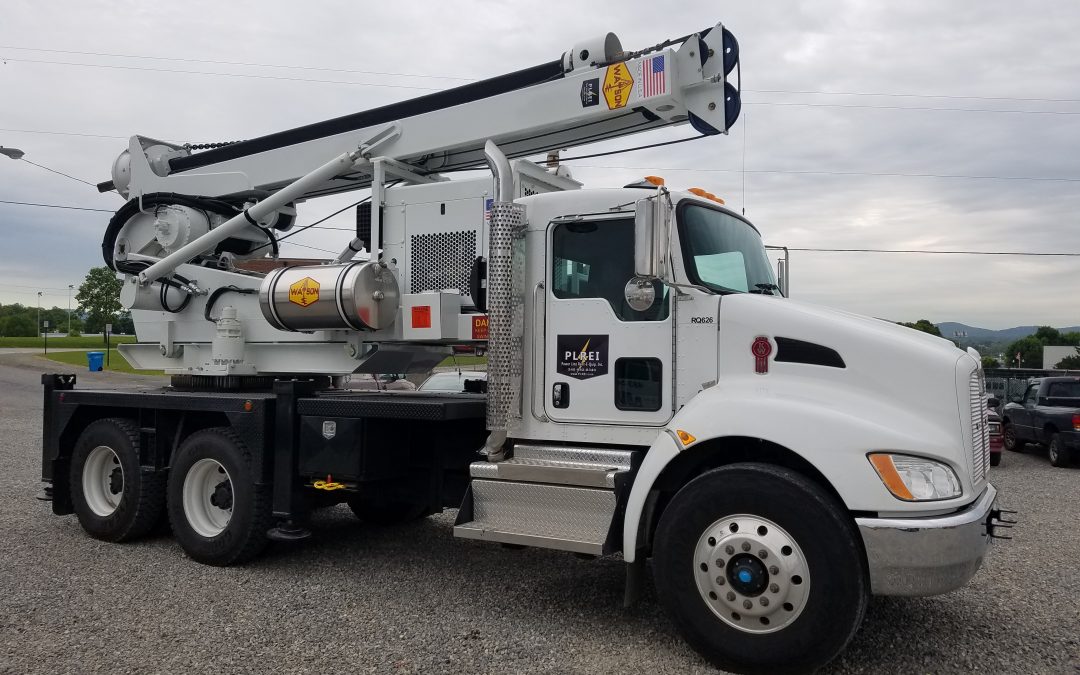 Watson Model 1100TM Short Mast
John Deere 4045 Diesel Engine, Tier IV (140-HP)
Funk 2000-Series Transmission
Dig Depth: 45'
Mast Height: 30'
Maximum Output Torque: 40,600 ft/lbs
Maximum Crowd Force: 21,300 lbs
Three Element Square Kelly Bar (7", 5" & 3.5")
Four Inch Square Kelly Bar Stub (Drilled 2″ & 6″ From Bottom)
Maximum Service Winch Capacity: 4,500 lbs
Rotating And Sliding Base (24" Of Travel)
Front Hydraulic Out & Down Outriggers
Rear Hydraulic Straight Down Outriggers

'18 Kenworth T370 6×4
Paccar PX9 Diesel Engine (350‐HP)
Allison 3000RDS Automatic Transmission
GVWR: 60,000 lbs
Wheel Base: 190"
Cab‐To‐Axle: 122"
Front Tires: 315 / 80R 22.5
Rear Tires: 11R / 22.5
Axle Ratio: 4.88
Power Divider & Wheel Differential Lock
LH Aluminum Fuel Tank (56‐Gallon)
LH Diesel Exhaust Fluid Tank (11‐Gallon)
RH Vertical Exhaust System
Hendrickson RT403 Rear Suspension
Air Ride Driver Seat & Fixed Two‐Man Bench Seat

Steel Tread Plate Flat Bed
Front Deck Extension For Auger Storage
(2) Underbody Tool Boxes, 18″ x 18″ x 48″
HD Pintle Hook
Safety Chain Eyes
7-Way Trailer Socket
Splash Aprons

Front Axle: 10,180 lbs.
Rear Axle: 31,860 lbs.
Total: 42,040 lbs.
Print Page
Rent from Us