RQ714 (Watson 1100TM-30DD)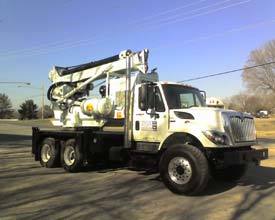 Watson Model 1100TM Short Mast
John Deere 4045 Diesel Engine (140-HP)
Funk 2000-Series Transmission
Dig Depth: 30'
Mast Height: 25'
Maximum Output Torque: 40,600 ft/lbs
Maximum Crowd Force: 21,300 lbs
Three Element Square Kelly Bar (7", 5" & 3.5")
Four Inch Square Kelly Bar Stub
Maximum Service Winch Capacity: 8,500 lbs
Rotating And Sliding Base (24" Of Travel)
Front Hydraulic Out & Down Outriggers
Rear Hydraulic Straight Down Outriggers
Deck Extension With Water Storage Tank

'07 International 7400 6×6
Vin: 1HTWJAZR67J425678
International DT570 Diesel Engine (285-HP / 800 FT-LB)
Allison 3500RDS Automatic Transmission
Meritor MTC-4213 Two-Speed Transfer Case
GVWR: 54,000 lbs.
Front Axle: 14,000 lbs.
Rear Axle: 40,000 lbs.
Axle Ratio: 5.29
Wheel Base: 197″
Double Locking Rear Differential
Meritor MX-14-120 Steerable Drive Axle
Meritor RT40 Tandem Locking Drive Axle
Hendrickson RT-403 Walking Beam Suspension
Front Tires: 315 / 80R 22.5
Rear Tires: 11R / 22.5
Double C-Channel Frame
Air Ride Driver & Two-Man Fixed Passenger Seats
Air Brakes
LH 70-Gallon Step Fuel Tank
Air Conditioning

 

Steel Tread Plate Flat Bed
Front Deck Extension With Water Storage Tank
(1) LH Aluminum Underbody Tool Box, 24″ x 24″ x 30″
PLREI LED Six-Way LED Strobe Light Package
HD Receiver Hitch With 15-Ton Pintle Hook
Safety Chain Eyes
7-Way Trailer Socket
Polymer Outrigger Pads (18″ x 18″ x 1″)
Rubber Wheel Chocks
Splash Aprons

Front Axle: 10,760 lbs.
Rear Axle: 32,900 lbs.
Total: 43,660 lbs.
Print Page
Rent from Us