SWS-JM202689 (Elliott L60R-MHA)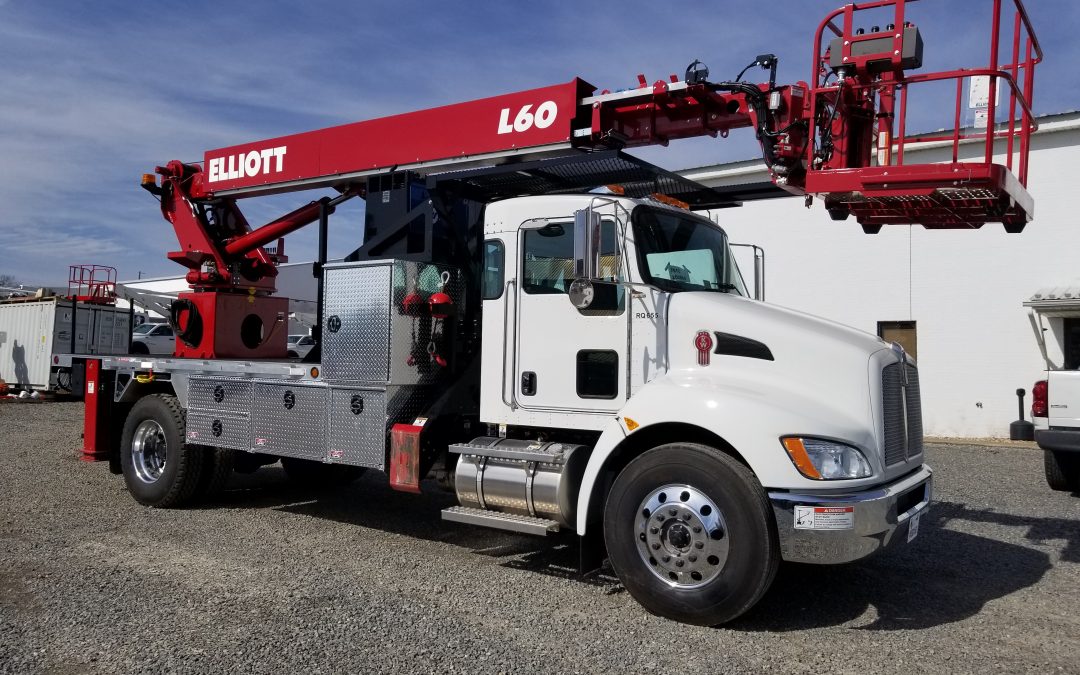 Elliott L60R-MHA / SN: 00-7012
Working Height: 62′
40″ x 60″ EZR Rotating Platform
Platform Capacity: 500 lbs.
Platform Jib Capacity: 500 lbs.
Boom Winch Capacity: 5,900 lbs.
Continuous Rotation
110-V Line To Platform
Anti-Two Block
Lower Controls Mounted At Turret
A-Style Front Hydraulic Outriggers
MH-Style Rear Hydraulic Outriggers
Automatic Safety Rotation Lock-Out
Welding Leads To Platform
Sign Face Holders

'18 Kenworth T370 / Vin: 2NKHHM7XXJM202689
Paccar PX7 Diesel Engine (300-HP)
Allison 2500RDS Automatic Transmission
GVWR: 33,000 lbs
Wheel Base: 212"
Cab-To-Axle: 144"
Front & Rear Tires: 11R / 22.5
Axle Ratio: 4.88
RH Aluminum Fuel Tank (56-Gallon)
LH Diesel Exhaust Fluid Tank (11-Gallon)
Horizontal Exhaust System
Reyco Multi-Leaf Rear Suspension
Air Ride Driver Seat & Fixed Two-Man Bench Seat
Air Conditioning
Tilt & Telescopic Steering Column

14′ Aluminum Flat Bed With Exterior Tie Down Rail
Standard Rear ICC Bumper
Hitch Plate, Pintle Hook, Safety Chain Eyes & 7-Way Socket
Electric Trailer Brake Controller
Cab Guard With Platform Walkway
Turret Mounted LED Strobe Light Package
Miller Bobcat 225NT Welder Generator With Remote Start
Oxygen & Acetylene Tank Storage Brackets
Aluminum Lamp Box (30″ x 36″ x 98″)
Aluminum Tool Boxes With Drawers, 2# (24″ x 24″ x 36″)
Aluminum Tool Boxes, 2# (24″ x 24″ x 36″)
Aluminum Tool Box With Drawers (24″ x 24″ x 30″)
Poly Outrigger Pads With Aluminum Mount (24″ x 24″ x 1″)
Rubber Wheel Chocks With Aluminum Mount

Front: 9,800 lbs.
Rear: 15,860 lbs.
Total: 25,660 lbs.
Print Page
Rent from Us